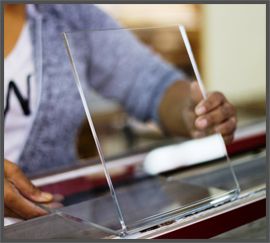 bending
Our strip heaters allow us to take a sheet of clear or colored material, up to 3/4" in thickness, and bend along a heated line. This provides a consistent and professional bend when working with many different types of material. Additionally, heat bending using multiple heaters gives Valley Plastics an almost unlimited ability in the bending of parts to meet your desired design.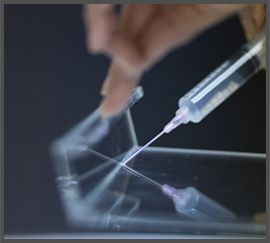 gluing
The clarity of our glue joints is the result of years of experience and efficient Quality Control. Materials are not actually glued: they are chemically 'welded' together using a special cement/solvent. Plastic cement does not stick the materials to one another - instead, it bonds them permanently to each other by actually melting (co-mingling) the materials to one another. Solvent welding/gluing isn't constrained by material thickness.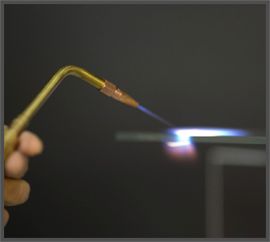 polishing
Flame Polishing uses a finely tuned and controlled flame to heat-polish acrylic. By melting the surface of the material slightly, surface tension smoothes that surface out. Operator skill is critical with this operation. When done properly, flame polishing plastic produces a nearly crystal clear finish, especially when polishing acrylic.
welcome to valley plastics
Having been in business over a quarter of a century, we understand the importance of supplying quality work at a competitive price with on-time delivery. Customers and prospective customers are encouraged to visit our company at any time. We would be delighted for you to tour our manufacturing facility.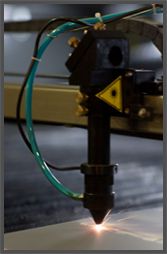 Valley Plastics is now proud to offer laser cutting and etching. This state of the art Laser Technology allows us to engrave: Acrylics, Wood, Metals, Glassware, Ceramics, Crystal, Leather, Plastics, & Signage. Please contact us if you have any questions or concerns when it comes to our laser capabilities. We look forward to helping you with your laser needs.
Our patented Universal Bracket® can be attached to virtually any fixture, enabling product to be displayed from slotwall, grid, or crossbar. The Universal Bracket® is available in metal or Acrylic DR®.
Clear fasteners for mechanical fabrication of Acrylic Fixtures. The connectors are manufactured from a DR Acrylic compound for use with 1/4" or 3/8" thick vertical panels and backs.